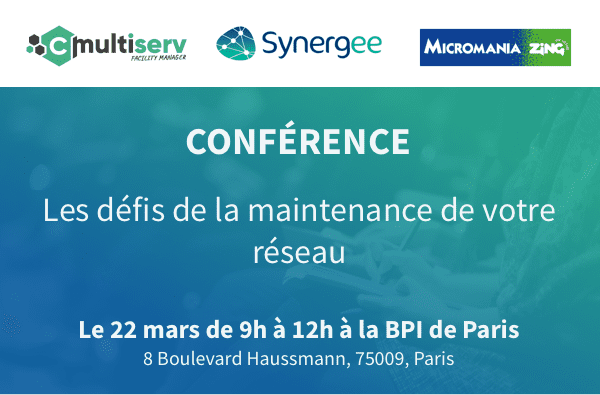 Your network must give a positive image of your company, and your sites must be in excellent condition to welcome your customers and employees.
However, these facilities are frequented by many people, equipment ages and unforeseen events can occur, making maintenance costs difficult to predict. To manage these challenges effectively, you need a clear strategy and the ability to execute it successfully.
On March 22, 2023 at 9am, Cmultiserv and Synergee will be holding a conference entitled "The challenges of maintaining your network", in which the following questions will be addressed:
Why outsource your maintenance services?
How can you be sure that your service provider has solid business skills?
How can you reduce costs and optimize efficiency?
How to develop your CSR policy?
What strategy to adopt and what tools to use?
We look forward to seeing you on Wednesday March 22 at the Bpifrance Lounge, 8 Boulevard Haussmann, 75009, Paris.
Subway: Chaussée d'Antin La Fayette (lines 7 and 9)
We look forward to welcoming you at 9am for breakfast. The event will run from 9:30am to 12pm.
Free admission.